In times like these, articles like this one often use the management wisdom that in China the characters for "crisis" and "opportunity" are identical. Unfortunately, this is not true, especially since both terms consist of two characters each, whereby they share one character. But since the world is currently experiencing a crisis of potentially biblical proportions in the face of SARS-CoV-2, and one that originated in China, let us assume for a moment that this legend is true. So does every crisis also present an opportunity? How should investors behave in the face of highly volatile markets and falling prices?
About black swans
First of all, it is important to distinguish the nature of this crisis. While some crises are more or less obvious in advance, other crises hit people and markets completely unprepared. The latter are mostly exogenous shocks that are not due to shortcomings of the markets themselves.
Nassim Nicholas Taleb, successful stock market trader, author and the world's first "improbability theorist", presented in 2007 with his worldwide bestseller "The Black Swan - The Power of Highly Improbable Events" a modern classic of economic science, and this although it comes more with philosophical considerations than with charts. Taleb is not without controversy, but his Black Swan has long since become a figure of thought that is also making its mark beyond its traditional discipline. The Black Swan is an unlikely, but not impossible event, the occurrence of which has massive consequences. In retrospect, however, there are omens for its occurrence. As a rule, the consequences of Black Swans are so massive that they initiate an about-turn.
The term goes back to European settlers, who were confronted with black swans for the first time in Australia in the 17th century, which they had previously considered impossible, as "swan" and "white" were synonymous for them. A black swan was simply unimaginable for them, partly because humans only perceive what confirms their own assumptions, while they skillfully ignore other signs. Here are some examples of Black Swans from the recent past, which had enormous consequences, for example on the stock market (as shown here).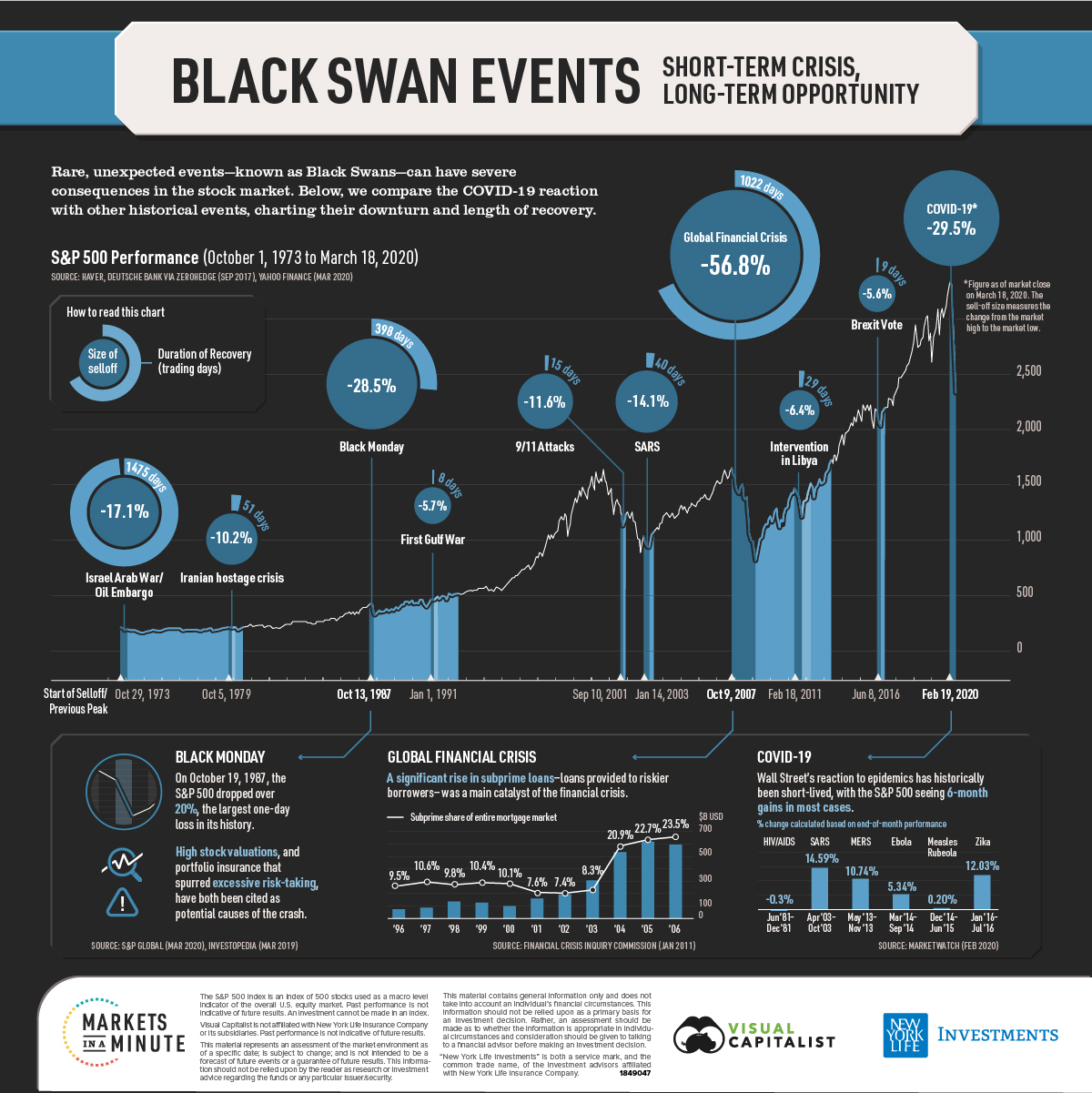 September 11, 2001
It was hard to imagine that 19 men, armed only with carpet knives, would hijack four planes to take them to the symbolic World Trade Center and the Pentagon, instead of simply freeing prisoners as terrorists did before. So September 11, 2001 is a prototypical Black Swan. After that, markets collapsed worldwide, the stock market was suspended, world trade shrank. Anyone who is quite familiar with unlikely but not impossible events is an insurance company. They make money with it, they insure risks that statistically do not occur frequently.
Black swans have a habit of ruining insurance companies, which is why there are insurance companies for insurance companies, the reinsurers. Whoever bought short options here made profits, and the same applies to airlines who had to leave their planes on the ground. As a result, security companies made a lot of money, cyber security companies like Palantir Technologies for example. Overall, however, the rebound of the economy was quite fixed, partly because there was sufficient liquidity in the markets and the damage remained locally limited. The US leading index S&P 500 initially lost 11.6 percent in value as a result of the terrorist attack, but recovered after only 15 trading days.
Global financial crisis 2007/08
Said Nassim Nicholas Taleb was a derivatives trader and also acted on the trading floor in Chicago. During the world financial crisis he made quite a lot of money because he anticipated that Black Swan. Even the then ECB President Jean-Claude Trichet referred to the Black Swan in a speech at the RWTH Aachen University.
"In Taleb's analogy, 'black swans' are an extreme result, but with low probability and highly unpredictable events. The parallel arises because the opening of spreads on the interbank market in August 2007 could not be predicted on the basis of historical data because it was a low probability event. It only became predictable - and justifiable - with hindsight." ECB President Jean-Claude Trichet, Aachen, 01.06.2011
What had happened? Credit default swaps (CDS), credit default swaps, and hence financial instruments so complex that most traders did not understand them, but which nevertheless received the placings of the rating agencies Standard & Poor's, Moody's and Fitch (partly because the investment banks that created the CDSs were their clients), had created an extremely unhealthy imbalance in securitised US mortgage loans. Suddenly, US floating real estate lending rates rose, leaving many homeowners insolvent. And now the domino's fell. The bubble burst, the investment bank Lehman Brothers, which had laced and traded CDSs, imploded, homeowners lost their homes to the banks, and a global financial meltdown set in because the financial houses were all interconnected and in debt. Suddenly there was no liquidity in the market, which affected the real economy.
Huge economic stimulus packages were launched worldwide and money became more cheaply available at the central banks than ever before, with key interest rates falling to historic lows from which they are still not far off today. In order to further expand the money supply and thus generate liquidity in the market, the world's most important central banks, the ECB and the Federal Reserve in the USA, bought government bonds on a historically unprecedented scale (2.6 trillion euros from the ECB (website in German) alone by the end of 2018). The impact of the crisis in the financial markets was enormous. The S&P 500 lost more than half its value within a short period of time (minus 56.8 percent). The recovery took years. Only after 1022 trading days did the leading index reach the level it had held before the crisis.
Not only in Germany the antidote of the investors against the crisis was Med and BioTech. The healthcare industry not only emerged stronger from the crash, it was even considered a driver of recovery in the USA and created around 2.8 million new jobs between 2006 and 2016, which means that the healthcare industry created jobs seven times faster than the US economy as a whole. The situation was similar in Germany. German medical technology created jobs and generated strong sales, which according to the German Medical Technology Association (BVmed) was also due to the fact that companies invested (website in German) an average of around 9 percent of their sales in research and development (website in German).
This development was reflected on the US stock markets, which in 2018 saw more initial public offerings (IPOs) - 120 in number - than in 20 years, with biotech and healthcare companies in particular demand. As a strongly export-driven economy, however, Germany still had other sectors that defied the crisis. Also because they are technology leaders, suppliers in the field of renewable energies and environmental technologies were hardly affected by the crisis.
Covid-19
Even if the creator of the term itself does not regard Covid-19 as a Black Swan, because he already suspected such a scenario in 2007, four years after SARS, the pandemic that has been spreading worldwide since mid-November and changing the lives of all the earth's inhabitants came as a complete surprise to most people - and to the stock markets as well. Corona is the greatest social experiment of all time, the world stands still, almost everywhere.
The fact is that the virus not only has a devastating effect on health, but is also bringing the economy to its knees worldwide. Supply chains are disrupted, the oil price plummets, stock exchanges crash, entire indices and thus also ETFs. Consumers who still have a job are consuming less and differently than before. And because these are probably only the pre-births, the price of gold, for example, rises to an all-time high (website in German) because investors are looking for a safe haven.
The International Monetary Fund expects the economic crisis triggered by Corona to be the most severe since the Great Depression in the 1930s, IMF Director Kristalina Georgieva recently announced. This crisis, she said, is different from all previous ones because it affects the whole world at the same time and is not limited to specific sectors. We are all feeling the effects: as patients, as employees, as employers, as investors.
By necessity, everything is now done online, business, school and teaching and private matters. Even if the acute danger by Sars-CoV-2 may be banished sometime, some measures and new habits will be permanent. Employers will no longer be able to justify why employees should not be able to work in the home office. The crisis is therefore not only giving Germany a boost in digitalisation that no EU initiative would have been able to achieve even remotely quickly. This means, of course, that all countries will have to invest massively in their digital infrastructure, not only in connection with 5G. The energy infrastructure also needs to be expanded and also converted.
But who can profit from the crisis? While countless livelihoods are at risk and companies are on the brink of ruin, it is already foreseeable that other providers will jump into the breach. Four industries are currently experiencing a strong upswing. You can confidently call them "systemically relevant": Cloud-based communication platforms, e-commerce, healthcare and energy companies. In the following we take a closer look at the industries that are emerging stronger from the corona crisis.
One of the biggest winners of the crisis is the so-called FANG gang: US companies (Facebook, Amazon, Netflix, Google) whose business model is predominantly digital. Online trade is booming when businesses are closed. Video calls run in the home office via platforms such as Skype and Microsoft Teams (both Microsoft), Zoom or Google Hangouts (Alphabet Group). In addition, streaming platforms such as Netflix (website in German), Amazon Prime and Spotify are recording massive access rates. Zoom's share price reached unknown spheres - but not that of Zoom Video, but of Zoom Technologies, a confusion of investors (website in German). Microsoft's cloud services were initially barely able to meet the demand, as the use of Microsoft teams in Italy, for example, increased by 775 percent (website in German). In this country, the first German Unicorn is booming: TeamViewer.
Our health is at stake, so the health industry is also booming at all levels, because we are now all painfully aware that prevention is better than aftercare. As described above, Germany is quite well positioned in this respect. "While biotech companies are hoping for big deals in the future, medical technology manufacturers are already feeling the huge demand for their products. Incoming orders at the Lübeck-based manufacturer Drägerwerk doubled in the first quarter compared with the prior year. The German government alone ordered 10,000 ventilators in mid-March," the SPIEGEL (website in German) recently reported.
Lessons from the crisis: What investors can learn from crisis-tested investment legends
So crises do indeed offer opportunities. While some demand is due to short-term effects that will fade away, Covid-19 has certainly made other developments irreversible. On the other hand, security - or what people think it is - is exactly what produces black swans. To be continued also. Until then, it might be worthwhile to take a look at the portfolio of professional investors such as Warren Buffett and Ray Dalio or the portfolio strategy of tech investors. 
Buffett, one of the richest people on the planet, who has made his money not through inventions and patents, but simply through more conservative investments, is a value investor who, with the help of his Berkshire Hathaway Holding, invests in stocks that a) are long sellers and which he b) nevertheless considers to be seriously undervalued. The "Oracle of Omaha", as Buffett is affectionately called by his disciples, is legendary, because he drinks several cans of Diet Cola every day, which is very effective for publicity purposes and also helps to sell his investment. In his portfolio, which currently consists of 52 titles and can be viewed here, there are mainly blue chips, standard stocks like Coca Cola, McDonald's and General Motors, but also Apple and Amazon. Overall, he has diversified strongly and is invested in all sectors. He holds millions of shares in several banks, insurance companies and payment service providers. He has pharmaceutical and healthcare companies in his portfolio as well as airlines. His success proves him right, because between 1965 and 2019 - in the meantime some Black Swans have occurred - Berkshire Hathaway has generated an average annual return of 20.3 percent. 
Also Ray Dalio, whose hedge fund Bridgewater Associates managed about 160 billion dollars from about 350 of the largest institutional investors at the end of 2019, diversifies his portfolio to be able to weather all storms on the markets (in the video from 9:10). 40 percent of the capital is tied up in long-term bonds, 30 percent in equities, especially ETFs, another 15 percent in medium-term bonds and 7.5 percent each in hardware, namely gold and commodities. About the element with the atomic number 79 he says explicitly: "If you don't own gold, you don't know anything about history or economics". It was also the solution of linking the dollar to the US gold reserves that inspired Dalio, whose fund has been in existence for over 40 years, to develop his all-weather investment strategy. 

David Rosskamp of June Fund, on the other hand, is involved with somewhat younger companies. The founder of the venture capital firm with a clear technology focus cannot avoid revising his portfolio. He now also sees conference platforms and logistics systems on the upswing. Rosskamp assumes that "sustainability, differentiated technologies and, above all, functioning business models will now be the order of the day," he revealed. We firmly believe that this is the case. Basically and now more than ever.