Companies are constantly confronted with the topic of financing and can choose from a variety of financing instruments. The trend continues towards debt financing via digital financing platforms with a growth rate of 80 percent per year from 2016 to 2019. What are the advantages - and what is the difference between debt and equity financing?
Financing as the greatest challenge for companies
It takes courage and perseverance to build a successful company. The topic of financing is one of the greatest challenges for most entrepreneurs. It accompanies all companies, no matter in which phase, from the start-up to the medium-sized company to the listed stock corporation. However, financing is particularly difficult for small and medium-sized enterprises (SMEs). They have only limited access to the capital markets, although their capital requirements remain high.
When it comes to choosing the right financing, SMEs set clear priorities, as a Solarisbank study shows (source in German). Most important to them is a simple financing process with little bureaucracy. This is followed by transparent and favourable financing conditions. And in third place among the priorities, according to Solarisbank market study, are the framework conditions for financing. Here, most SMEs seek financing of between 1 and 6 million euro with a term of 3 to 6 years.
Alternative financing for companies on the upswing
For many of these companies, for a long time the only way to obtain fresh capital was to go to their local bank. This is confirmed by a study conducted by Ebner Stolz Management Consultants and Wolff & Häcker Finanzconsulting (source in German). According to this study, over 90 percent of medium-sized companies continue to rely on the classic banking business for financing. Those who failed in this classic way, for example because they could not provide collateral or because the bank considered the business model too risky, often had no prospect of investing in further growth.
For some years now, alternative financing options have been available that are completely digital. These include a wide range of platforms on which private individuals and companies can obtain financing on an online marketplace. Alternative online financing options include peer-to-peer lending platforms where individuals lend money to each other. They also include equity-based crowdfunding platforms where individuals and investment companies can acquire shares in companies. Finally, traditional donation- and counter-performance-based crowdfunding platforms are also included in this area.
These digital financing platforms have been booming in Europe since 2013, according to a market study by Cambridge University. According to this study, the financing volume of these platforms has increased more than tenfold between 2013 and 2018 from an initial figure of around 400 million US dollars to over 7 billion US dollars (see Figure 1).
Alternative online financing in Europe (excl. GB)
Financing volume between 2015 and 2018 in million US dollar

Most of the growth was due to peer-to-peer lending, where private individuals lend money to each other. If you take this area out and focus only on corporate finance, you can see that the market for digital corporate finance has also grown strongly in recent years (see chart 2). Between 2013 and 2018, the European market (excluding the UK) grew from around $595 million to nearly $2.6 billion. From 2017 to 2018 alone, this market grew by 140 percent.
Alternative financing for companies in Europe (excl. GB)
Proportion of different forms of financing in the financing mix in millions of US dollars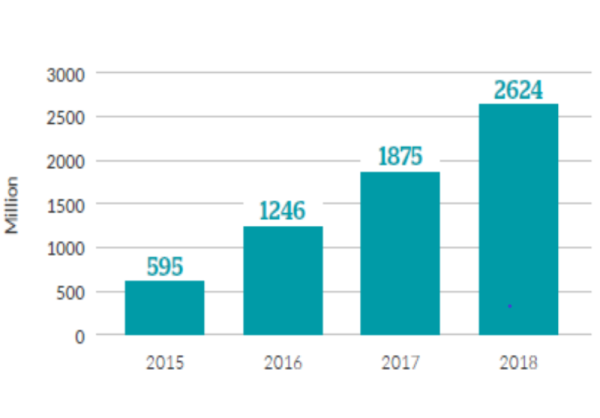 The market segment of digital corporate financing can now be divided once again into equity, debt and non-investment. It is very clear that debt financing accounts for the majority of market growth (see chart 3). They were responsible for 81 per cent of the financing volume (around US$ 2.1 billion), followed by equity financing with 17 per cent (around US$ 438 million) and donor-based or counterpart financing with 2 per cent (around US$ 61 million).
Alternative Finanzierungen für Unternehmen in Europa (exkl. GB)
Anteil versch. Finanzierungsformen am Finanzierungsmix in Millionen US-Dollar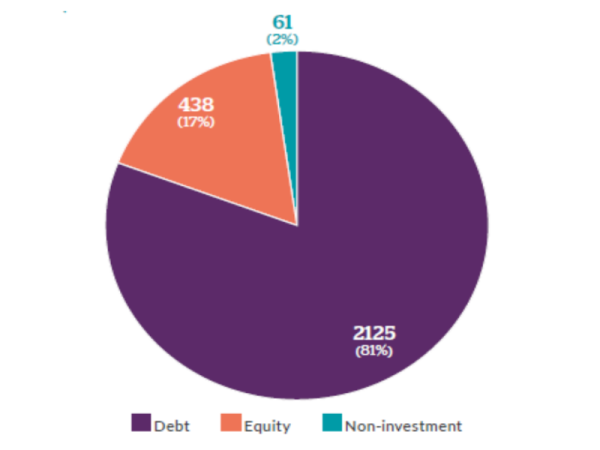 Germany experiences upswing in digital credit financing
Looking at Germany, the market for alternative financing is also showing immense growth. From 2017 to 2018, the German market grew by 85 percent from around 672 million US dollar to around 1.3 billion US dollar. This makes Germany the third largest market after Great Britain and the Benelux countries. The lion's share of growth in Germany was generated by credit platforms that provide financing for companies using debt capital. They were responsible for 69 percent of growth and a financing volume of around 882 million US dollar. In contrast, crowd investing platforms (equity-based crowdfunding), on which companies use equity to finance themselves, only accounted for around 28 per cent of the financing volume (US$ 351 million).
Borrowed capital brings advantages for companies over equity capital
Alternative financing for companies exists in Germany since 2011. These include crowdfunding, crowdlending and crowd investing platforms. These platforms have specialised in providing small and medium-sized companies with the necessary capital. However, they differ greatly, both in the design of their products and in the cost of raising capital for companies. While some of these platforms specialise in equity or quasi-equity financing, others use mixed or debt financing.
Equity capital, as provided by venture capital companies or business angels in the classical sense, for example, sometimes has consequences for companies. On the one hand, it must be taken into account that equity investors can influence the company as co-owners. Since they usually speculate on a high return, they may possibly work towards a short-term, exit-oriented business strategy. Equity financing is usually associated with a high level of bureaucracy and regular annual reports to the shareholders.
The shares of the previous constellation of shareholders dilute with each equity round, which can impair their long-term motivation for the success of the company, namely when the shares of the founding team are so low that they lose control of their company and only have to act in accordance with the interests of their shareholders. Finally, speed and the cost of capital may be arguments against equity financing. It can take 6 to 12 months from the start to the end of negotiations. The cost of raising equity capital is usually much higher than for debt. This is due to the fact that many rounds of equity capital negotiations involve high legal costs and the transaction costs vary greatly.
For these reasons, many companies are turning to debt financing. While banks offer debt financing only against collateral, digital credit platforms offer unsecured loans. However, the companies must have sufficient turnover to finance the current interest payments and later the repayment of the loans. Small and medium-sized enterprises therefore have various reasons for choosing digital debt financing.
An important point for entrepreneurs is that they do not have to give up shares in their company and thus retain control over the direction of the business.
They do not have to fulfil any exit expectations of their shareholders.
In the case of debt financing, the shares of the founders remain unaffected, so there is no dilution.
As a rule, such financing is also faster than equity financing. Many platforms already offer the possibility of partial disbursements during the current financing round.
The cost of raising capital for credit-based financing is generally lower than for equity financing and the transaction costs are transparent.
And finally, the effort for reporting and due diligence is significantly lower than for equity financing.
Debt capital is becoming increasingly popular, especially for startups
A trend has been observed in the US for a few years now, as investments by venture capital companies and business angels have been declining, according to a market analysis by LighterCapital. While in 2014, for example, more than 700 financing rounds were led by business angels, by the end of 2018 there were only 152. The situation is similar for VC investments. In 2014, around 6,700 deals with 5 million dollars or less were still reported. In 2018, there were only just under 5,100, as VCs increasingly focus on later phases and larger rounds. The number of large VC deals with a volume of more than 5 million dollars rose in the same period from around 2,600 (2014) to just under 3,400 (2018).
This creates a financing gap that is mainly filled by credit platforms. In Germany, this gap for SMEs amounts to around €36 billion, according to the solarisbank study (source in German). In the USA, too, there is not enough capital for SMEs. A real boom in digital credit intermediation has already taken place there, as Techcrunch reports. According to the study, debt financing is the most popular form of financing, especially among start-ups with monthly sales of at least USD 15,000. Especially young companies with a Software-as-a-Service (SaaS) business model are increasingly turning to this form of financing. This is because they rarely meet with the understanding of banks for their innovative business model.
These companies are particularly well suited to debt financing, as they have already passed the development costs, have a customer base and a rapidly scalable business model. They see debt financing as an opportunity to pursue organic growth and postpone possible equity rounds to a later date. As a result, they are not forced to constantly conduct new equity rounds and dilute their shares more and more. Instead, they finance themselves by ceding a share of their future revenues to investors, usually between two and nine percent, as shown in LighterCapital's market analysis.
Conclusion: Digital credit financing is a real alternative for companies
For companies that are currently seeking capital and are already generating revenues, digital credit platforms such as Innovestment can be a useful addition to the financing mix. They are convincing because they are easy to use and the capital is quickly available. This gives entrepreneurs the opportunity to concentrate on growth without having to bring new shareholders on board for each financing round. These advantages also seem to be slowly spreading, as data from Europe and the USA show. In both markets, financing volumes provided through digital credit platforms are growing.
There are a number of suppliers in Germany which differ greatly in their products and conditions. While some providers offer direct loans (debt capital), other platforms have specialised in subordinated loans (mezzanine capital). As a precondition for financing, these platforms generally expect the company to be based in Germany and to have sufficient turnover to service current interest rates. For this purpose, the annual accounts of previous years are usually used as a basis for a risk assessment.
As far as the costs for companies are concerned, the platforms also vary considerably. Most providers charge a one-off fee for risk assessment and setting up the financing round. There is also a commission on the capital raised and a small annual management fee. This means that the costs of the credit platforms are often lower than the cost of raising equity financing, while saving high legal fees and tough negotiations on the value of the company. The trend towards financing via platforms continues!