In our new series, we would like to introduce you to non-fiction books that engage, inspire and captivate us at Innovestment. They all revolve around the core topics of entrepreneurship, innovation, leadership and organization. We start with the book "Keinhorn - What it really means to found a startup" by Julian Leitloff and Caspar Schlenk. Julian Leitloff founded his first startup Stilnest, which produced jewelry in a 3D printer, at the age of 22. Today, he leads blockchain startup Fractal, which he co-founded with Júlio Santos in 2017.
What is the book about?
The book is about the grueling road to success of the young startup founder. It tells an unembellished story about the challenges and the fears founders face. It also sheds new light on the German startup scene and reckons with the myth of "startup founders as a lifestyle." Founding a startup, he says, is first and foremost one thing: a lot of hard work.
What excited us about the book?
The book is a captivating story. It's 293 entertainingly written pages, which we didn't expect from a non-fiction book. You can tell that Caspar Schlenk is a professional journalist. And yet you always have the feeling that Julian Leitloff is really telling his story. Authentic, close and as it really was.
The book also touched us because it tells an important aspect that we tell far too little about in Germany today: Entrepreneurs who set out to create something, put their heart and soul and courage into their company, and take responsibility for other people who work for them.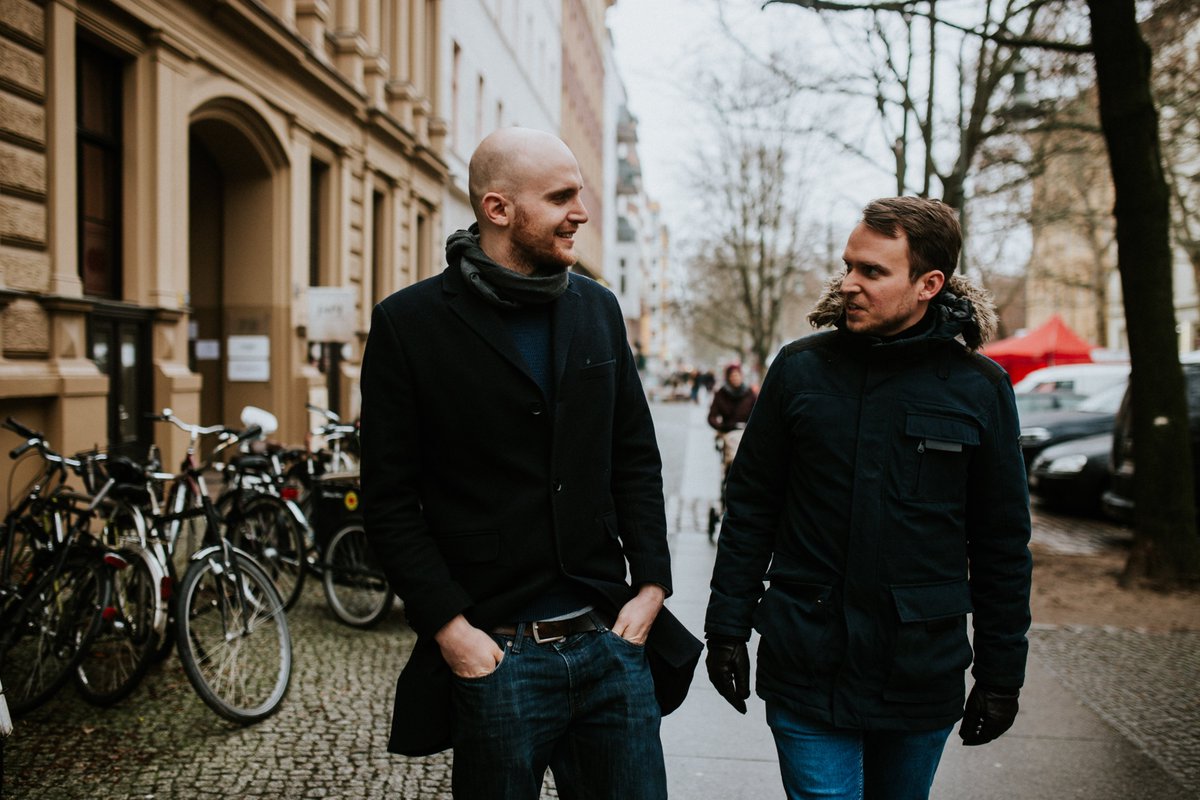 The two authors of "Keinhorn", Caspar Schlenk and Julian Leitloff, walking and talking in their neighbourhood.
What is the core thesis of the book?
Founding is the best thing in the world you can do - if you're the right kind of person for it. At the same time, it's not something to glorify. It's great and hard work at the same time, and founders should talk much more about what it really means to found and thus counteract the "survivorship bias" and the "myth of the genius founder." Because - as it says on page 288 - "for the really big throws we need our collective support".
Why is the book relevant for founders?
The enthusiasm with which Julian Leitloff tells his story as a founder does not diminish the pain that we as readers feel when, once again, an investor drops out shortly before signing with the notary or he has to tell his best friend that he has to leave the company. This book can provide initial insights and pave the way for real conversations among founders and those who want to become founders.
Bottom Line:
From a flood of books on founding and the startup world, "Keinhorn" stands out for its refreshingly honest look at the scene. It does not gloss over the fact that founding a company involves many challenges and setbacks. And yet, in the end, it makes it clear that starting your own business can be one of the most rewarding things, especially if you know what you're getting into and are willing to fight passionately for your idea.